Blog by Georgina Livie

Georgina joined Boxfusion as Business Application Consultant after graduation from the University of Birmingham with an LLB degree in Law with French.

A certified Oracle Service Cloud implementation specialist, Georgina also has expertise in Oracle Policy Automation.
What's new in Oracle Service Cloud November 2016?
Posted by Georgina Livie on Thu, Nov 24, 2016 @ 10:16 AM
The recent November 2016 version of Oracle Service Cloud boasts many exciting developments designed to improve usability and effectiveness of the system, particularly around the ever-evolving Browser UI (BUI), the agent desktop itself and several great platform enhancements. Vastly improved performance and increased functionality on the Browser UI make using Service Cloud on any device possible for a wider range of customers, while new 'sneak preview' chat functionality lets agents understand and solve issues more quickly. Another new addition are the 'infolet' dashboards, providing a rich visual display of important management data and offering key insights that can lead to well-informed, confident decisions to aid the business.
With so many new features to play around with, I've taken some of the best and will shed light on how they can be leveraged to benefit Service Cloud customers, end-users and businesses.
Browser UI
In addition to the Service Console ('Agent Desktop') and the Mobile Agent App, the Agent Browser UI gives you another way to view and manage your Oracle Service Cloud data. It lets you:
Access Oracle Service Cloud from anywhere
Access Oracle Service Cloud using devices that do not support Microsoft® .NET
Use environments where browser-based applications are required; for example, when required by an organization's compliance or governance rules
Let's take a look at the Browser UI February 2015 version. Back then, we were advising a customer on whether to use .NET add-ins, which do not exist in Browser UI. Since then, it has progressed substantially and is now able to cater for a wide range of scenarios, mostly around casual or management users.
In this latest update, the Browser UI has received a significant performance boost, increasing responsiveness by minimising trips to retrieve data and so increasing agent efficiency. In addition, it has received an upgraded skin, the Oracle Alta UI, which is used throughout a large range of Oracle products and helps standardise the user experience across a range of familiar applications.
Rather than continuing to be version-specific, a new single version of Browser UI means that it can be used with any version of Oracle Service Cloud all the way back to May 2015, opening it up to many more customers while also eliminating upgrade downtime. With this, Oracle aim to make adoption of the Browser UI as easy as possible for those customers interested in making the move.
Analytics has additionally received a host of enhancements where previous reporting options were limited. Rollups, slicing, calculations and more have now been included, improving usability and effectiveness. Knowledge authoring has also been added for the Browser UI, and a first phase of integrated live chat has finally been implemented for it, with seamless transfer and conferencing with other agents. Integrated workspaces mean agents can also see contact data including previous incidents to provide a complete view of the customer during chat.
As you can see, Oracle are making constant improvements here to eventually bring the Browser UI in line with the capabilities of the Agent Desktop; an exciting prospect for many customers who might have various reasons to look forward to a browser-based UI (virtual desktop deployments, for example, or organisations with reduced Microsoft Windows footprint).
Contact Centre
Enhancements also continue to be introduced for the Agent Desktop, which is still the primary choice for most Service Cloud customers. Dashboards have had a facelift, bringing a much more modern appearance as well as greater functionality. New out-of-the-box (OOTB) 'infolet' dashboards provide agents and supervisors with rich visual displays of individual and team performance. This provides the ideal platform to display important management information such as most common incidents raised, severity of open incidents and number of resolved issues. This in turn aids decision-making at an early stage.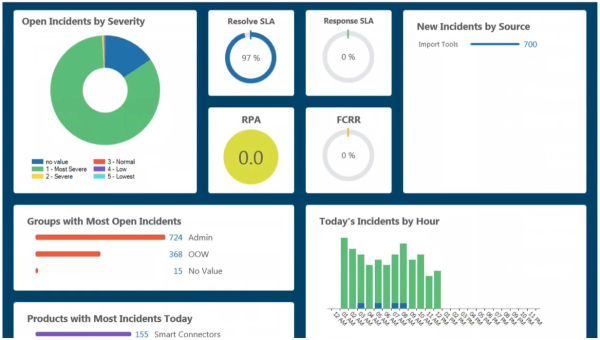 Fig. 2: Infolet Dashboards
Platform Enhancements
Integration has been a focus this release, with great advances to connect with Oracle Internet of Things Cloud and Oracle Marketing Cloud. What's more, improvements have been made to the Mobile Accelerator, send-on-save has been made available via API and, importantly, assets can now be used within the add-in framework. These open up further customisation possibilities to more effectively meet Service Cloud customers' needs.
For Marketing Cloud, near real-time one-way (Responsys) and two-way (Eloqua) synchronisation is facilitated by Oracle Integration Cloud for reliable data consistency. While integration is completely configurable, OOTB mapping is available for many fields on the Contact and Organisation objects, with extensibility to Incident.
Service Cloud-Oracle IoT Cloud Service Integration Accelerator
The Internet of Things (IoT) has been a key technology trend this year and is predicted to continue to be at the forefront for many decision-makers across many industries in the years to come. You can find out more about it in our blog post about emerging technology trends and their influence on customer experience. Oracle IoT Cloud Service is an Oracle Platform-as-a-Service (PaaS) integration solution that lets you connect, analyse and integrate smart device data into business processes and applications. Integration with Oracle IoT Cloud allows Service Cloud to connect directly with IoT smart devices to aid the prediction of customer needs, to provide timely alerts to end-users and even to service devices remotely. To facilitate this integration a new accelerator is available on request, containing source code and documentation for establishing the connection.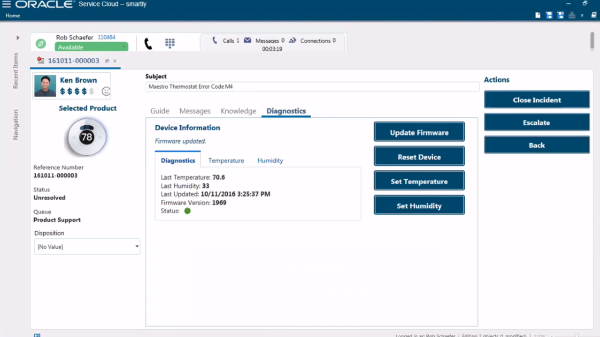 Fig. 3: IoT Cloud Integration wtih OSvC on the Browser UI
Key benefits:
The integration automatically creates incidents in Service Cloud when a smart device encounters a fault
As agents work the case, they can view historical performance information for the device and even perform remote actions such as firmware updates
Pro-active alerts can be triggered to remind end-users that, for example, a refill or service is due
By allowing customers to pre-empt end-user needs and address customer service issues proactively, the fully configurable solution increases efficiency and reduces costs.
For further information and examples, check out this video.
Other New Features
Knowledge Advanced has again received multiple enhancements, including answer links and answer sharing via email. Improved intent modelling lets end-users find answers to questions similar to theirs based on the language used, and an interactive spell check paired with 'did you mean' suggestions makes self-service easier than ever. These improvements not only decrease the time customers spend searching for an answer, but reduce their likelihood of submitting a question or even picking up the phone.
Oracle continues to work on communities within the customer portal, to empower end-users to help each other. Also in the customer portal, co-browse configuration has interestingly been handed over to administrators, where before intervention from Oracle was required.
Additionally, Oracle Policy Automation (OPA), used by many Service Cloud customers, has received a massive range of enhancements. (We'll be blogging more about this important upgrade in particular in a separate blog, so watch this space.)
One final impressive new feature is the chat sneak preview, allowing agents to glimpse what end-users have typed even before they send their message. Agents can begin to formulate their response earlier, providing a better user experience by accelerating conversations. Since resolutions are reached more quickly, productivity is also improved.
In Summary
A range of compelling and useful new features have been introduced with the November 2016 release of Oracle Service Cloud. In addition to innovative IoT integration, we're most excited about the improved dashboards, OPA enhancements and the chat sneak preview! Which features are your organisation looking forward to using?
Reach Out
If you'd like to take advantage of the many new features of Oracle Service Cloud, call us now on +44 203 283 4315 or email us at contact@boxfusionconsulting.com. You can also read more about the Boxfusion and our Oracle Service Cloud services here.
Boxfusion Consulting is a Specialised Oracle Service Cloud Implementation partner.