A day in the life...
...of a Senior Consultant – Siebel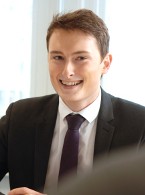 Name:
Dan Raper
Age:
27
Position:
Senior Consultant - Siebel & UX
Time at Boxfusion:
4 years
Dan joined Boxfusion Consulting in January 2013 as a Business Application Consultant working on Siebel CRM implementations.
Since then, he has specialised in the design and development of Siebel Open UI solutions, with a focus on user experience and process optimisation. Dan is also a member of the Boxfusion CSR Committee, which organises regular charity fundraising and volunteering events for employees.
Describe a typical day at Boxfusion…
For Business Application Consultants, the vast majority of our time is spent on client sites providing solutions. However, there isn't much in the way of repetitive or settled patterns in our work.
Although there are set processes for producing designs or doing development, you're constantly required to adapt to different circumstances and technologies in line with client requirements. This involves regular meetings with clients, technical analysis and planning, setting deadlines, and performing support tasks to keep client systems at peak performance. You will also have additional responsibilities alongside project work: these could be anything from preparing and giving sales presentations or demos to writing training materials and research papers for the rest of the team.
Due to the emphasis on continual development, there are plenty of training courses as well as your own personal learning to fit into the schedule too.
How would you describe your relationship with your colleagues?
There's a really strong culture of collaboration and knowledge sharing at Boxfusion. The consultants here have varied backgrounds, but all of us are genuinely passionate about technology. This means there's a huge opportunity to pick up knowledge and skills from those around you. What's more, everyone is always willing to share what they know.
There's a good social side to the company too. There are regular conferences and socials where everyone meets up, as well as a CSR programme with regular 5-a-side football matches, mud runs and fancy dress days.
What is the most rewarding aspect of your job?
Conducting usability reviews and making systems work for users is a fantastic experience. It empowers both the business stakeholders and the end users, and it's great to see even a small improvement make the lives of users easier, while saving the client time and money.
The focus on continuous development is also highly rewarding. Boxfusion provides you with the time and materials you need to learn something new, but also challenges you to learn quickly, and apply what you've learned to the benefit of our clients. There's a huge focus on learning at every level.
What advice would you give someone considering a career with Boxfusion?
I applied for a position here because I wanted to be directly involved in driving positive change within organisations and using technology to solve complex problems. If this sounds like you, I would definitely recommend getting in touch.
Describe working at Boxfusion in three words…
Varied, challenging, rewarding.