A day in the life...
...of a Senior CX Cloud Consultant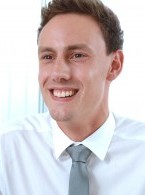 Name:
Louis Granger
Age:
25
Position:
Senior Consultant
Time at Boxfusion:
3.5 years
Louis began his career as a graduate consultant at Boxfusion back in 2013. He joined the company after graduating with a degree in Chemistry. His first two weeks as a consultant were spent in Madrid on an intensive training course. Since then, Louis has become an integral part of the Cloud team and has led multiple Service Cloud projects. Louis was promoted to a Senior Consultant in January 2015.
Describe a typical day at Boxfusion…
No day is really 'typical'. Some days might be full of meetings and workshops, whereas others are focused on building solutions that map client requirements and preparing materials to support a project. I also get the opportunity to visit client sites on a regular basis so there are plenty of opportunities to travel.
What are the biggest challenges you face?
It was a steep learning curve for me, as I joined the company with a limited IT background. However, the support and guidance of my colleagues, as well as my own dedication to succeed, has enabled me to thrive in this environment.
Throughout my time with Boxfusion, I have been entrusted with a high level of responsibility, specialising in a cloud application that was new to the company when I first joined, but which now forms a large portion of the projects I am involved in. The biggest challenge has been to manage expectations on the client side while adopting the company's 'first time right' approach to building solutions.
What do you find most rewarding about life at Boxfusion?
Joining the Cloud division provided me with the perfect platform to develop my career. Specialising in Oracle's Service Cloud offering, I have a high level of technical responsibility in projects across varying industries. My job is to configure the application according to the client's requirements and support the project managers in other aspects such as training and documentation. Overcoming issues in development has given me a great sense of personal achievement.
I also enjoy the fact that you don't receive the typical graduate treatment at Boxfusion. Despite joining the firm with limited experience, I've been entrusted with important projects and a great degree of responsibility and independence from an early stage. That is one of the main reasons I still enjoy working here.
What advice would you give someone considering career with Boxfusion Consulting?
Don't be put off if you haven't got an IT background. As long as you're inquisitive and have a passion for learning, the accelerated training programmes at Boxfusion will provide you with information and understanding to put you in good stead for the rest of your career.
Describe working at Boxfusion in three words…
Challenging, fulfilling, enjoyable.