A day in the life...
...of a Principal Consultant – CX Cloud Lead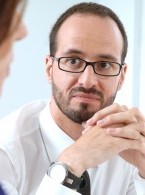 Name:
Luis Figueira
Age:
36
Position:
Principal Consultant
Time at Boxfusion:
4 years
Luis started work at Boxfusion in March 2013, having spent eight years with a large IT consultancy in his native Portugal, with multiple international assignments across Egypt, the UAE and within Europe. He has since been heading up Boxfusion's Cloud practice. His educational background includes a postgraduate qualification in project management.
Describe a typical day at Boxfusion…
There really is no typical day at Boxfusion. You could be in the office, on the way to a client's office anywhere in the UK, or visiting some of our other clients in Europe, the Middle East or the Americas.
You could help to restructure marketing applications for an international consumer goods company, implement a new cross-pillar CX suite for a multi-million-pound biotech company or build a self-service knowledge portal for a local maternity ward. You could help to migrate a legacy application, or be on the bleeding edge of integrating new technologies like Social Relationship Management, Machine Learning or Internet of Things. You might find yourself alongside other experienced consultants receiving training from Oracle product development professionals, or back in the office supporting the development of more junior colleagues.
What are the biggest challenges you face?
Some of the most interesting challenges we encounter are not just technical in nature, but involve changing people's mind-sets. When clients have worked for decades with on-premise technology, presenting the case for moving applications into the Cloud can be a huge challenge in terms of managing their expectations and fears.
What is the most rewarding aspect of your job?
The job brings constant challenges and new learning experiences that are extremely satisfying. Having been given the opportunity to put together a team that works with brand new, cutting-edge technology using Oracle CX Cloud was also very exciting and rewarding.
What attracted you to work at Boxfusion?
I left a multinational consulting company with thousands of employees to work at Boxfusion. My decision was motivated by a desire to make a difference, to be given real, significant responsibilities and to influence the future direction of the company.