A day in the life...
...of a Principal CRM Consultant & CX Architect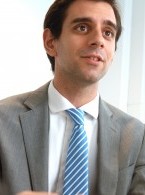 Name:
Pedro Malheiro
Age:
33
Position:
Principal Consultant
Time at Boxfusion:
4.5 years
Pedro relocated from Portugal to join Boxfusion in May 2012. He joined as a Senior Consultant and was promoted to Principal Consultant 12 months later.
Describe a typical day at Boxfusion…
An early start and a not-so-early end, with lots of action in between!
For me, a typical day at work involves the full spectrum of consultancy in IT. This can be anything from strategy decision-making and business requirement meetings all the way through to systems development, deploying the client's system into production and gaining key insight into the benefits we bring to both the end users and the business functions as a whole.
How would you describe the office atmosphere?
Boxfusion is one of the most culturally diverse companies I've experienced. However, the high level of talent, motivation and professionalism is a positive common factor in every employee.
Although I perform a team lead role, I still learn something every day from the directors and I'm constantly impressed by the junior team members as well. It is one of the most talented teams I have seen.
What do you enjoy most about your role?
As consultants, our ultimate objective is to improve our client's business. Seeing the positive impact of your work is very rewarding. The debates at the requirement meetings, the configuration that stubbornly refuses to compile and the heated interaction with the testing teams is all worthwhile when you see your hard work showing results. The sense of pride and 'mission accomplished' is very fulfilling.
For example, one project I worked on involved implementing several changes to a healthcare regulator's Contact Centre in Newcastle. As a result of one improvement we made, the time needed for a post code search that had previously taken one minute was reduced to just one second. It's clear how our efforts resulted in a more efficient system for the client, and a better outcome for the public.
What advice would you give someone thinking about a career with Boxfusion?
If you're keen to work as part of a young, talented and international team, you're looking to experience the excitement of one of the world's busiest cities and you enjoy the challenges of working for a growing company, send in your CV and start preparing for the interview process!
Describe working at Boxfusion in three words…
Professionalism, talent, trust.