A day in the life...
...of a Senior Consultant – Siebel & UX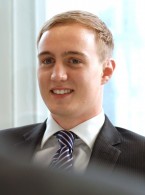 Name:
Jake Patterson
Age:
27
Position:
Senior Consultant - Siebel & UX
Time at Boxfusion:
6 years
Jake joined Boxfusion in 2010 after graduating from Durham University with a degree in computer science. Since his promotion to senior business consultant in April 2013, he has been responsible for leading projects and making technical recommendations to clients. Jake's role is currently heavily focused on delivering business process and user experience improvements to clients' solutions.
Describe a typical day at Boxfusion…
Tasks can range from meetings with clients to discuss their requirements, developing new functionality for a Siebel implementation, and providing support to users when they run into technical issues.
Each project is different though, so there's always something new to learn. The typical day sees a lot of interaction with other teams. These might be project managers, testing teams or business analysts, as well as the actual users of the systems.
How would you describe your relationship with your colleagues?
Consultants are given lots of responsibility and are expected to use their initiative to solve problems, but there is a great support network in the form of the other consultants and managers, who are always available to help.
There's a really strong culture of collaboration, team work and knowledge sharing. In addition, the company organises regular social events so everyone can meet up. This is a nice way to catch up with consultants who have been working on other projects.
What attracted you to Boxfusion?
I wanted to work in a customer-facing environment, in a role that involved solving problems for clients and advising them on software, and where I could contribute to high-level decisions and planning.
Boxfusion attracted me in particular because it's a small company, which means there are many opportunities to learn new things and take on a lot of responsibility, plus there's a tight-knit team who all get along really well.
What is different about the role now that you're a senior consultant?
I'm now in a position where I'm viewed as a technical expert who can provide accurate information to clients, in a wider context than the mainly 'technical' assistance I was primarily concerned with before.
I'm still involved in development and other technical work, but it is complemented by these new tasks, which generally involve more responsibility within projects. On a recent project, for example, I was essentially the 'lead', managing all of the day-to-day tasks and planning with relatively little involvement from my superiors.
Describe working at Boxfusion in three words…
Varied, challenging, interesting.