OBIEE Healthcheck – Limited Availability
26/08/2015 - 18/09/2015
Book now for a free day with Boxfusion to boost your
Oracle Business Intelligence
Work with a Boxfusion OBIEE specialist to improve your report performance. Boxfusion is an OBIEE specialized Oracle Platinum partner. We ensure our customers success with OBIEE by producing critical insights and analysis to the most complex data in the timeframes that matter you.
In this free 1 day assessment Boxfusion will identify:
    Your top 5 performance bottlenecks
    An action plan tailored to your business to boost performance
    Best practice advice for OBIEE development
    Your Cloud readiness through an in depth assessment
The speed at which your reports are delivered defines your users productivity while they are waiting your business is missing out on critical insights which can help shape your competitive advantage.
Avoid wasting thousands of pounds on new databases or servers- a real OBIEE expert can define insight into performance problems with real world experience and extreme product knowledge – identifying the best practice configuration, setup and to drive your reports.
Boxfusion Consulting are a specialist provider of high-quality technical consultancy services, focusing on the Siebel, CX Cloud and Business Intelligence applications from Oracle.
To learn more about Boxfusion OBIEE our services are summarised below.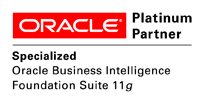 Fixed price upgrade to OBIEE 11.1.1.9
Report and dashboard design and development
Informatica & Oracle Data Integrator design and development
BI Publisher design and development
OBIEE and BI Publisher Training
OBIEE Application development
Oracle Endeca
Oracle Business Intelligence Cloud (BICS) migration