Blog by Alex Sensier

After graduating from Queen Mary, University of London, with a Bsc(Eng) in Information and Communications Technology, Alex joined Boxfusion as a Business Application Consultant specialising in Oracle Sales Cloud. He is a Oracle Sales Cloud Certified Implementation Specialist, and boasts strong skills in Oracle PaaS (Platform-as-a-Service) and ADF.
Partner Relationship Management: Reaching New Heights with Oracle PRM – Pt II
Posted by Alex Sensier on Tue, Dec 12, 2017 @ 2:34 PM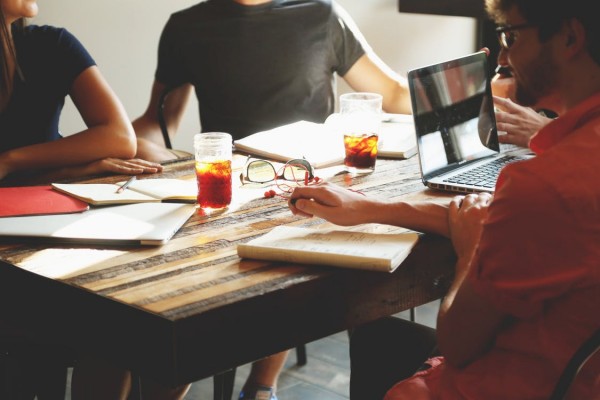 Partner Relationship Management (PRM) functionality within Oracle Sales Cloud has been heavily enhanced in recent releases and has been something we've been looking forward to for a while now. Earlier this year, we worked with one of our customers who wanted to move away from their legacy Partner management solution and benefit from already having Sales Cloud and now onboarding their channel business onto PRM.
With them, we delivered one of the first roll-outs of Oracle Sales Cloud PRM globally. As with all of our cloud projects, we ensure our customers are benefitting from the application's core functionality but there will always be bespoke requirements that need filling through customisation and extensibility!
This blog explores some of the key components of a PRM solution and the components we customised to tailor the solution towards our customer's core business requirements.
If you'd like to learn more about the benefits Oracle Sales Cloud PRM could bring to your business, you can read our Marketing Manager Laura's blog here.
Leveraging an Integrated PRM Technology Solution
Approvals and Workflows
Oracle's Business Process Management comes built-in with Sales Cloud and is heavily embedded in core PRM functionality, such as partner onboarding and enrollment, Marketing Development Funds (MDF), and the Deal-to-Opportunity lifecycle.
Role-based & resource-based approval workflows can be introduced and often support one-click approval to speed up conversion velocity and remove siloes commonly found between different lines of businesses as a result of disjointed Sales, Marketing and Channel tools.

Fig.1 – Channel vs. partner approval view
Acting on decisions becomes an effortless process and Partner users are instantly informed of the result via in-system and email notifications. Configuring automation rules for approvals means that actions that do not require human interaction are processed immediately, massively improving resolution times.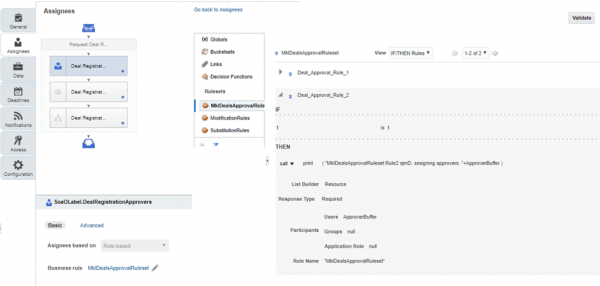 Fig. 2 – Configurable approval rules
Communication and Social Improvements
Another great benefit of PRM is having the ability to engage directly with partners through embedded social collaboration tools.  Oracle Social Network within Oracle Sales Cloud, for example, enables Channel Sales Managers to converse with partners directly in the application about sales deals, enabling them to gain better insight into business activities whilst enriching a collaborative working environment.
Using OOTB features like Sales Coach for Opportunities and Partner Announcements for informing partners about important updates, ensures they have all the tools they need to build & maintain pipeline and will help strengthen the partner relationship.
Furthermore, Channel Managers can collaboratively work with their partners to define common strategic sales goals through a joint Business Plan. Attainment can be captured and monitored within the application, giving Channel Managers confidence their partners are performing and gives them confidence that they are benefiting from their partnership with the brand.
Customised Partner Portal
Finally, a notable benefit of Oracle's PRM technology solution is the ability to strengthen businesses' brand through a consistent and efficient user experience which is constantly being enhanced through investment into new product releases. Brand imagery, for example, can be rolled out to a partner-specific portal, where the UI is styled separately to their internal Sales Cloud application.
Furthermore, partner registration and onboarding processes can be customised (through a custom page hosted on your brand's website or a platform-as-a-service (PaaS) application) to give partners a powerful first impression of your partner portal.
There are many customisations, of which I will go into more detail below, that can be seamlessly integrated with Oracle PRM.
A Look at Example PRM Solution Customisations
As with all technology today, being able to customise and tailor products is essential. With Oracle Sales Cloud, for example, small tweaks can be made to the application's PRM modules to meet specific, complex business requirements. We worked on three key customisations which were crucial for the project's success:
A Unique E-Learning Experience
Our client requires their partner organisations to regularly take small E-Learning quizzes and attend webinars to top-up their knowledge of the products they are selling. This functionality was available in their legacy platform but was a gap in the core functionality of Oracle Sales Cloud.
The Oracle Application User Experience (OAUX) team held a design workshop including key members of our client's team and our project team to design a powerful E-Learning tool with a design that seamlessly matched the rest of the application.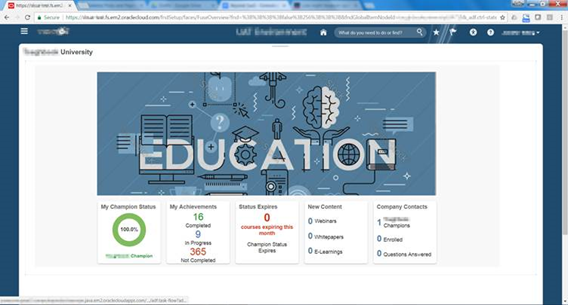 Fig 3. Custom E-Learning tool embedded seamlessly into Oracle Sales Cloud
Built using Oracle Application Development Framework (ADF) and hosted on the client's Oracle Java Cloud site, the custom E-Learning functionality was quickly available alongside the other core application objects.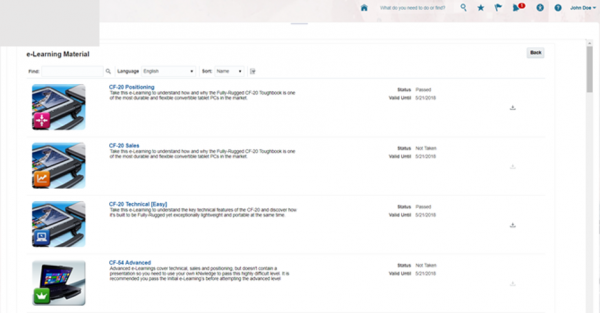 Fig 4. Custom E-Learning tool hosted within Oracle Sales Cloud
Streamlined Internal Workflows
Our client wanted to ensure that their partners were able to register, be approved and log-in to the application within 24 hours. Although this could feasibly happen with the product as shipped out of the box, the process requires a number of manual intervention points and system approvals. Because involving multiple users can cause scope for delays, we decided to automate the process.
We adapted the product so that users would receive a thank you notification at the point of registration and, if approved, a workflow would be triggered to automatically enrol them into a partner program and provision the Contact who registered as a Sales Cloud user. This allowed one-click approval of partner users and massively improved, and automated, the onboarding process.
Powerful Visuals and Analytics
Brand consistency is vital in customer and user engagement. Our client recognised this, making it a key requirement within our project work. This meant that the UI theme had to be alternatively styled to their internal users, all outbound email had to include the client's branding and consistency had to be maintained with the custom E-Learning tool. Although a small customisation, branding was an important part of ensuring the partner migration from a custom-built legacy system to Oracle Sales Cloud was a success.
We also spent time developing a partner dashboard containing key analytics and performance driven indicators, which were made available to give partners a real-time visualisation of their Sales Cloud data.
Fig. 5: Dashboard containing key analytics and performance driven indicators
Conclusion
By combining tools available out-of-the-box with customisations to meet specific business requirements, a powerful channel management solution can be achieved using Oracle Sales Cloud PRM. If you'd like to understand more about the use cases and benefits of using a Partner Relationship Management application, the first blog in this series explores these in more detail.
Read PRM: Reaching New Heights – Pt I >>
About Boxfusion Consulting
Boxfusion Consulting is an Oracle Platinum Partner and leading provider of Oracle customer experience (CX) Cloud consulting. We empower businesses to take better decisions that deliver competitive CX and provide overall better customer satisfaction. Having worked alongside a range of clients across various industries and sizes, we have built bespoke solutions that extend visibility, simplify reporting, improve data quality and automate workflows, all contributing to significant time and cost savings. With in-depth knowledge of the products in which we specialise, supported by first-hand insight into the Oracle product roadmap, we can help our clients harness the benefits of PRM in line with their unique business requirements, providing a digital education as we lead them securely through their journey to successful digital transformation.
If you are interested in understanding more about how PRM could help you in your business, or require support with an implementation of PRM, we'd be happy to help. Simply email us on contact@boxfusionconsulting.com or call us on +44 203 283 4315.