Blog by Luis Figueira
Luis has 12 years' experience as a CRM consultant, across a wide range of industries and geographies. Past clients include government agencies, banking and public sector institutions in Europe and the Middle East, as well as telecommunications companies across Europe, the Middle East and Africa.

Boxfusion's Cloud Lead, Luis holds a number of certifications on Oracle products, including Oracle Service Cloud (RightNow CX), and leads Boxfusion's delivery efforts on CX Cloud projects.
Oracle Engagement Cloud – The Future of Service?
Posted by Luis Figueira on Thu, Sep 29, 2016 @ 5:00 PM
What is the hype around Oracle Engagement Cloud?
Oracle Engagement Cloud is the name for a new set of Service features Oracle are releasing alongside Oracle Sales Cloud, as a new service. The current guise, just being released now with Sales Cloud R12 (licensed separately) is still quite basic, compared to the full breadth of Oracle Service Cloud. This will bring Service Requests, Knowledgebase, Service Roles, performance tiles, BI subject areas and other minimal functionalities to Oracle Sales Cloud. The power of this solution lies in the synergies across Sales and Service, but it is still necessarily a very simple solution.

Fig. 1: Oracle Sales Cloud and Oracle Engagement Cloud side by side.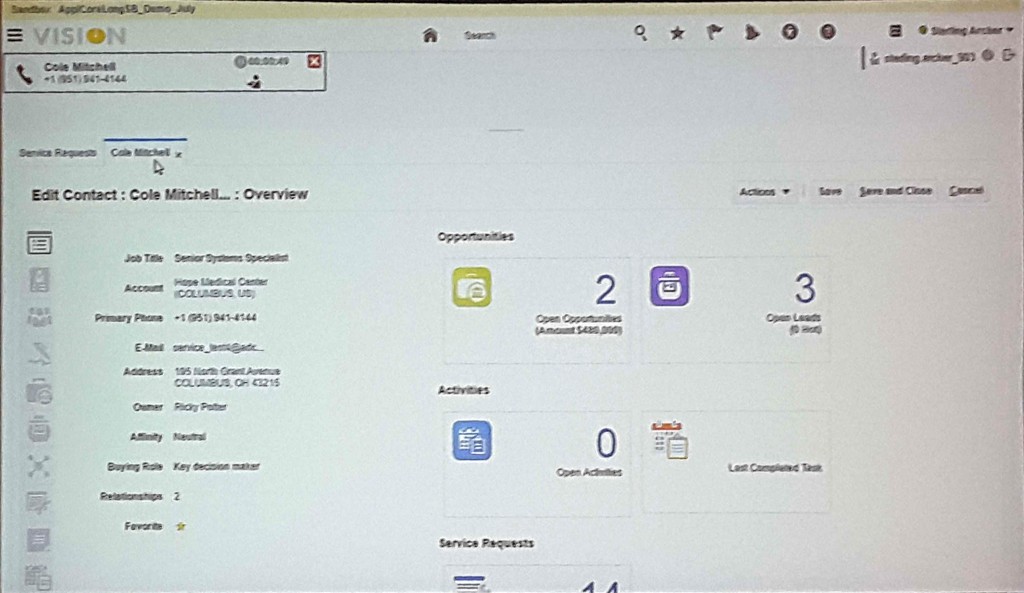 Fig. 2: Oracle Engagement Cloud Contact Profile page.
What Oracle Engagement Cloud is not
This new service is not being positioned as a direct replacement of Service Cloud. The intended use case is for B2B organisations where agents wear both a sales and a service "hat": they might be on a call with a customer about an issue and identify a cross- or up-sell opportunity and need to act on it immediately. For customers that use high-volume contact centres, for example, Oracle Engagement Cloud might never be an adequate solution.
Things left out of the solution at this point include inbound email, web self-service (both probably coming in R13) and more advanced service requirements, like multi-channel media bar, SLA management, workflow, guided assistance, policy automation, agent scripts, routing and queueing.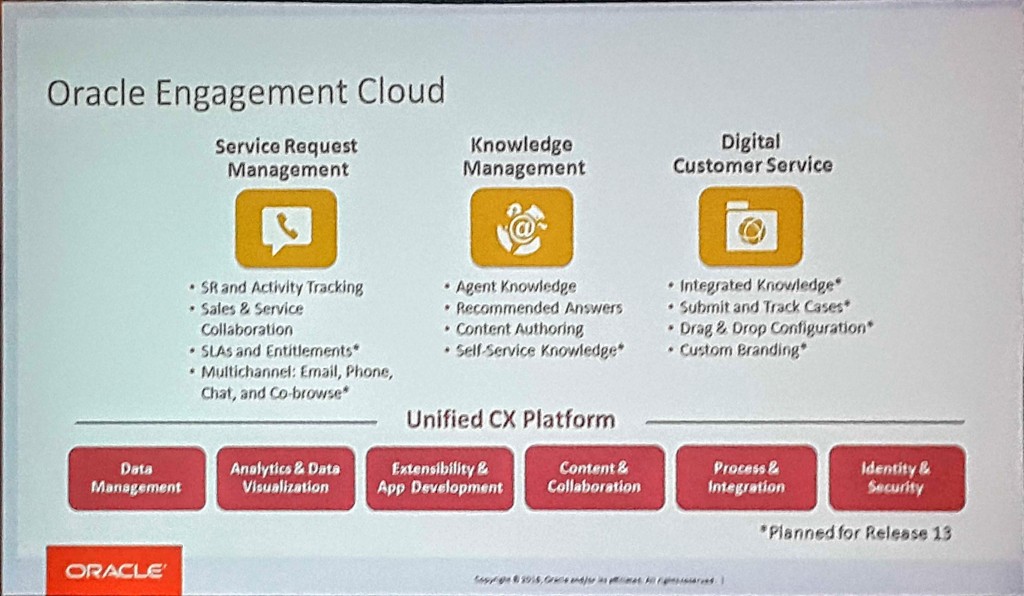 Fig. 3: Oracle Sales Cloud roadmap.
What is the future direction for Oracle Engagement Cloud?
Let's consider what's under the hood. From a pure services perspective, the underlying APIs are the same as those powering Service Cloud: Knowledge API (rumour has it it's actually going to be Knowledge Advanced, previously known as InQuira), Smart Assistant for suggested answers and chat API are some of the earliest ones to be integrated.
But on the Sales Cloud (Fusion) stack, a number of other services are available: analytics (OBI, already leveraged for the integrated solution), Oracle BPEL, Oracle Business Rules and object workflows (which could potentially be used for workflow, agent scripting, routing, and all automation maybe even business rules), groovy-based user exits (more automation, equivalent to Service Cloud process designer scripts), etc. There is very little in the Oracle Service Cloud solution as pure services that cannot be implemented in the Fusion Applications stack.
But what about the self-service experience? The Oracle Service Cloud Customer Portal is a PHP web server built on a number of libraries and frameworks, using the PHP Connect API to access and modify data. This enables companies to build rich, interactive and responsive self-service applications. Oracle Sales Cloud has no such thing (well, in fact, it does have basic web page building functionality in Oracle Web Center, but it is no-where close to a full-fledged PHP web server).
Well, Oracle do have a number of other Cloud Services on PaaS that could be leveraged for this. The current direction of product development at Oracle is to expose as much as the core services as possible as REST endpoints. Both Service Cloud and Sales Cloud have been going through this transformation for a couple of years now. This enables decoupling the micro-services from each other and from, for example, the UI. The REST APIs can then be used to build UIs, mashups and go into all sorts of other applications.
If using Oracle tools, then Mobile Cloud Service or Application Builder Cloud Service (ABCS) are at this point ideal candidates for the business user, as they are drag-and-drop editors that let casual users build mobile and web applications, respectively. This is the same strategy that will be used in Oracle Engagement Cloud to build the agent-facing mobile clients (actually, mobile Service will already be a part of the new R12 enterprise mobile app), but most importantly, also the self-service portal. This would be a paradigm shift, from building PHP web sites to pure JS SPAs (Single Page Applications); from mostly server loads to mostly client loads with AJAX integration to REST endpoints, based on the underlying micro-service architecture.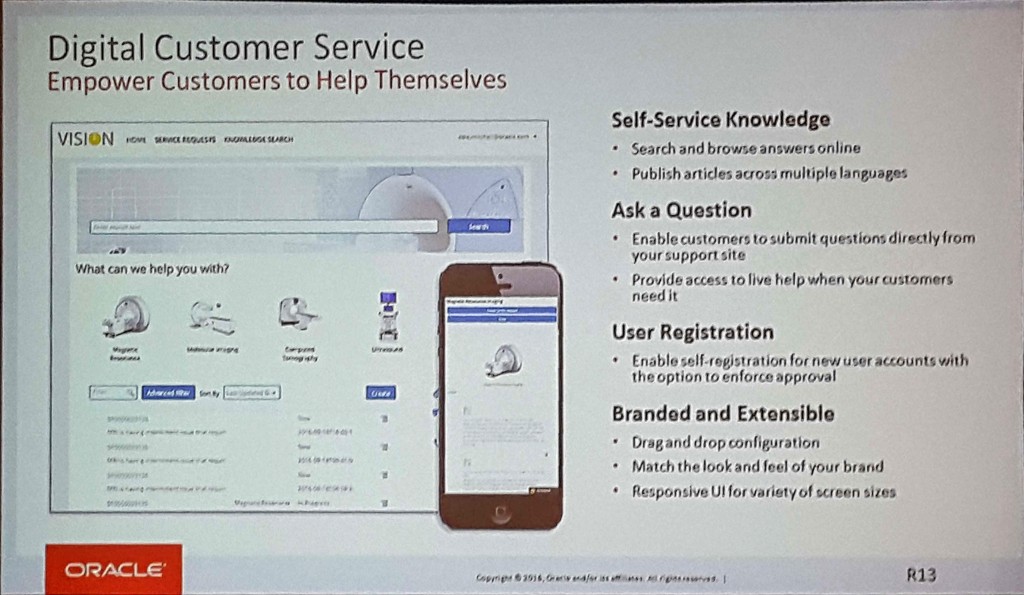 Fig. 4: Oracle Engagement Cloud Self-service experience.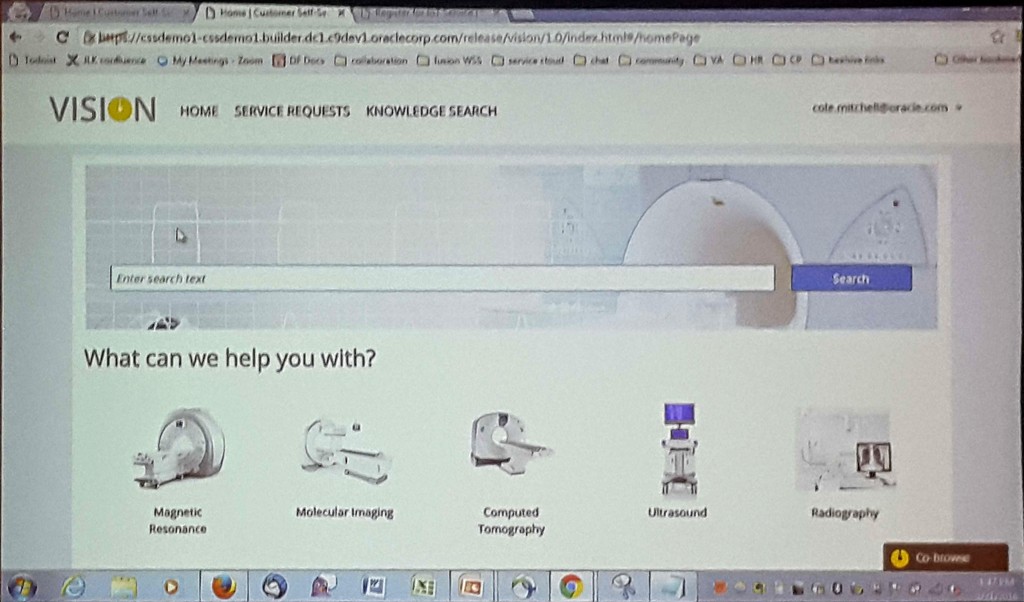 Fig. 5: Oracle Application Builder Cloud Service (ABCS) self-service experience.

Fig. 6: Oracle Application Builder Cloud Service (ABCS) developer experience.
How does this new offering align with Oracle Service Cloud?
Oracle Service Cloud is present on multiple Gartner Magic Quadrant analyses and a clear winner. Oracle Engagement Cloud, although promising, is currently nowhere near a full replacement of Service Cloud and it is also not being sold as such. We will continue to follow this closely as the functionality within Engagement Cloud grows. As experts in both Sales Cloud and Service Cloud and the underlying platform technologies, we feel we are ideally placed to position all of these tools and help our clients make roadmap and architecture decisions that best leverage their current assets and protect their future investments.
Watch this space!
Find Out More
If you do want to engage with us to discuss any of the topics discussed here, or talk about concerns you have with ongoing Cloud projects or projects you're about to embark on, email us at contact@boxfusionconsulting.com or call us today on +44 203 2834315 to speak to our experts.
Paul

Prabhat Manam

Pramod V
Leave new comments