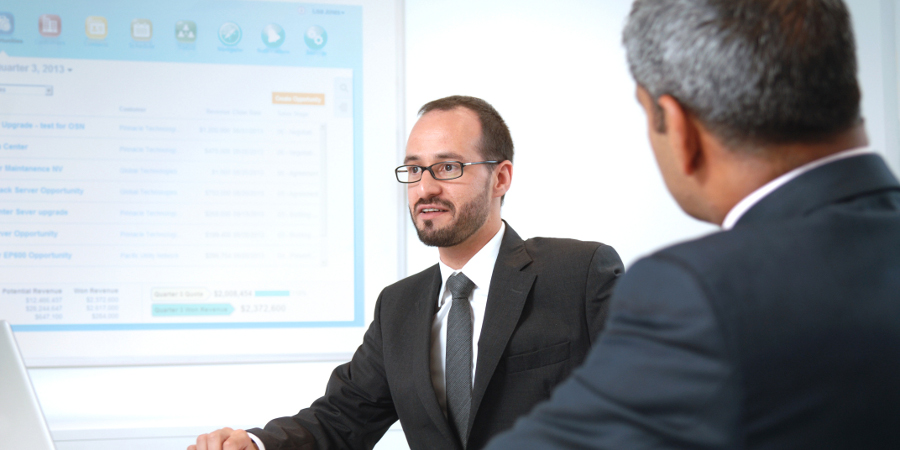 Oracle Sales Cloud Consulting
Oracle Sales Cloud – also referred to as Fusion CRM or the Oracle Fusion CRM Cloud Service - is Oracle's cloud-based Sales Force Automation (SFA) tool.
Released in 2011, its class-leading capabilities now mean it is the preferred choice for many customers looking for Cloud-based SFA.
Whether you are considering implementing core Salesforce Automation, the revolutionary Territory Management module, Sales Coach (for better pushing out best practices across your sales teams), Sales Predictor (for better targeting of Sales Reps to those opportunities you are most likely to win, based upon historical data) or the embedded Business Intelligence, we can help you take full advantage of what Sales Cloud can offer.
We're experts in Oracle Sales Cloud: we have been building capability in Sales Cloud since 2012 and use our own Oracle Sales Cloud instance to support our sales processes – so we know what we are talking about!
Implementation and Development Services
With our help, you can be up and running on Sales Cloud in as little as four weeks, by leveraging our fixed-price, fixed-scope Oracle Sales Cloud Quick Start Packages. These packages provide you with the key Lead Management, Lead-to-Opportunity and Opportunity Management business processes, customised to your business. Additionally, we'll set up the Outlook interface as well as the Mobile App, so you can access your sales data from your favourite email program or on the move!
We are also able to support you with larger scale implementations, leveraging the deep capabilities of the Territory Management, Quota Management and Sales Predictor modules. And if your business utilises highly-custom flows, we can configure Sales Cloud to support those too.
If you're interested in finding out more about Oracle Sales Cloud, or how we can help you with it, call us on +44 203 283 4315 or contact us here.
Sales Cloud Integration Services
If you already have systems in place, you may wish to integrate them with Sales Cloud. Oracle Sales Cloud offers a strong integration architecture, based upon the proven Oracle Fusion Middleware architecture, which can be leveraged to integrate quickly and effectively with your existing systems.
Alternatively you may also be purchasing Oracle Marketing Cloud and/or Oracle Service Cloud. We have experience integrating these three Oracle Cloud offerings together, and can help you to successfully achieve this.
To engage us to help you with integrating Sales Cloud to other systems, call us on +44203 283 4315 or contact us here.
Siebel to Oracle Sales Cloud Integration Services (Co-Existence)
Many existing customers of Siebel are following a co-existence model: that is, maintaining Siebel as the core enterprise CRM platform and using Oracle Sales Cloud for class-leading SFA capabilities such as Sales Predictor.
Leveraging our knowledge of both Siebel and Sales Cloud, Boxfusion Consulting have worked on some of the first Siebel – Oracle Sales Cloud integration projects globally, and we are now leaders in this area. If you are looking to implement Sales Cloud alongside Siebel CRM, and want to get the most out of your investment, call us on 0203 283 4315 to talk to an expert, or contact us here.
Salesforce.com (SFDC) to Oracle Sales Cloud Migration Services
Companies who have historically used Salesforce.com and who wish to modernise their SFA by moving to Oracle Sales Cloud can take advantage of Boxfusion's SFDC to Oracle Sales Cloud Migration Services.

The services leverage the Boxfusion SFDC-OSC Migration Toolkit, which includes prebuilt accelerators to map Salesforce.com data to Oracle Sales Cloud, as well as software to perform the data migration itself, reducing the risk and time of any move to Sales Cloud.
Existing business processes can either be replicated into Oracle Sales Cloud or, if you would prefer it, Boxfusion can support you in re-analysing your business requirements in order to reflect up-to-date business processes in your Oracle Sales Cloud solution.
Boxfusion offers several pricing options, including fixed-price/fixed-scope migrations to give you further confidence in any move to Oracle Sales Cloud. If you are interested in Boxfusion helping you with your migration away from SFDC, contact us now on +44203 283 4315 or contact us here.