Blog by Georgina Livie

Georgina joined Boxfusion as Business Application Consultant after graduation from the University of Birmingham with an LLB degree in Law with French.

A certified Oracle Service Cloud implementation specialist, Georgina also has expertise in Oracle Policy Automation.
The February 2017 Oracle Service Cloud Release Best Bits
Posted by Georgina Livie on Wed, Mar 22, 2017 @ 2:58 PM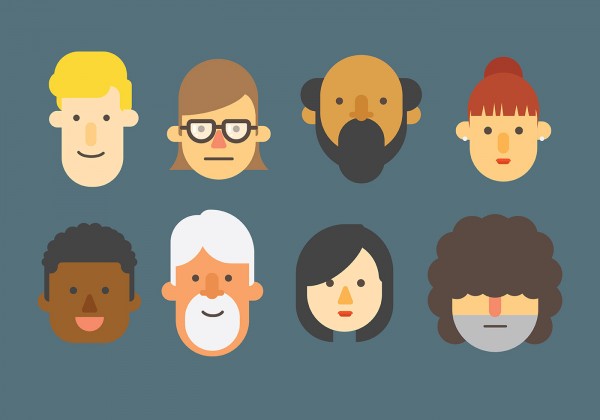 It's been just over a month since the February 2017 release of Oracle Service Cloud and we're keen to share with you our thoughts on several great new functionalities it introduces.
Although the Oracle Field Service Cloud module and Knowledge Advanced have been in the spotlight again this release, many areas have gained exciting and often long-awaited features, like Experience Routing for all incoming channels. On the Customer Portal side, the new Widget Inspector simplifies widget management, while Oracle Policy Automation (OPA) has received some useful updates including improvements to user management. We've also seen some other platform enhancements, including the new Oracle Social Relationship Management (SRM) Cloud integration accelerator and High Volume Bulk Delete API.
I've picked some of the key highlights which can bring benefits to both end-users and Service Cloud customers.
Experience Routing
Let's start with the Cross-Channel Contact Centre, where this release benefits from an extension of Experience Routing. Originally introduced in May 2014 for Live Chat only, Experience Routing (also known as skills-based routing) provides firms with an improved ability to use insights gained from customer interactions to better handle and prioritise routing of incidents.
In the February Service Cloud release, Experience Routing was extended past Live Chat, supporting all other channels including Web, Social and Email. Beyond Service Cloud's existing powerful routing engine, where incidents join queues based on factors such as the mailbox contacted, the entire customer self-service system will now be able to route incidents to the best-skilled individual for the task.
One type of Experience Routing is that triggered by product and category based skills. For example, a customer might submit an incident about a new laptop. Of course, this would be best dealt with by someone with knowledge of that range or, better yet, that exact model. Another type of Experience Routing is that triggered by language-based skills. In the example I've used, the incident may have been submitted in Spanish, and will therefore route to a Spanish speaking agent with experience in the particular laptop range and model.
Fig. 1: Experience Routing
On the whole, this eagerly anticipated feature will make incident resolution more efficient, by automatically choosing the person best equipped for each incident.
Widget Inspector
As part of a focus on administration tools in the Customer Portal, Oracle have introduced the Widget Inspector to make customisation simpler and quicker. Widgets are elements placed on pages to perform particular functions, such as the login and chat widgets, which can look or behave differently depending on the attributes you set. This new tool, the Widget Inspector, highlights widgets used on a Portal page, displaying each widget's name and its attributes. It even goes one step further and allows editing from the page view too, without touching any code!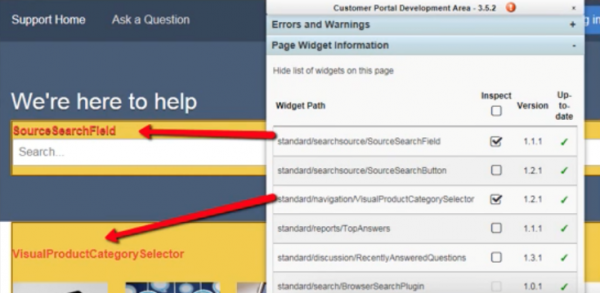 Fig. 2: The Widget Inspector
Many Service Cloud customers will be happy to hear about this simplification, as it will speed up and increase flexibility of Customer Portal customisations.
Oracle Policy Automation (OPA)
OPA has had some tweaks, the first of which removes the need to choose a single type of user (logged in customer, agent or anonymous user) per policy model. From February 2017, each of these users are now able to use any policy model, allowing centralised management of OPA models, a consistent experience and simpler upgrades.
Secondly, enhanced OPA Hub user management allows integration accounts to be managed separately from general hub administrator users. It also lets you utilise the OPA Hub REST API to create and update user permissions. This feature can be leveraged to aid synchronisation between OPA Hub users and other systems and automates the creation of user accounts, saving agents valuable time on administrative tasks.
Thirdly, it is now possible to export an OPA project data model for analysis. Viewing the exported data model makes examining any relevant attribute settings more efficient, especially if using an external quality tool.
Oracle Knowledge Advanced Cloud
Oracle's Knowledge Advanced cloud solution continues to evolve with ever-increasing customer engagement demands. The February 2017 Service Cloud release has seen a host of new features for effective knowledge management within the Knowledge Advanced solution.
A new 'Recently Viewed' section has been designed to quicken resolutions, by listing articles on the support screen that have proven helpful previously – great if a customer wants to go back and reference articles again.
Fig. 3: Knowledge Advanced 'Recently Viewed'
Additionally, automatic task notifications help keep the knowledge base content fresh by reminding article owners that they need an update. Furthermore, a set of newly developed reports can bring insights into article usage. By knowing the most popular articles and who most frequently accesses them (end-customers or agents), the knowledge base can be kept as relevant and audience-appropriate as possible.
Finally, there is good news for those in the travel industry, as a new industry-specific dictionary has been added. This will make searching travel terms more effective with Knowledge Advanced.
Oracle Field Service Cloud
Oracle Field Service Cloud has recently been substantially developed, coinciding with this release. For us, the most exciting development is an easier integration to Service Cloud using Oracle Integration Cloud Service (ICS). Integration with ICS accelerates the process and can produce results quicker than trickier custom integrations, meaning a smoother experience and quicker implementation.
Other new features include routing enhancements and "Uberisation" to incorporate a shared economy model. To hear more, watch this video from Oracle.
Other Platform Enhancements
In terms of integration, the February 2017 release of Service Cloud has gained a new accelerator for Oracle's Social Relationship Management (SRM). While Service Cloud's Social Monitor already allows agents to respond to social media posts, integration with SRM allows interaction over multiple channels, so contact centres can see all posts and historical engagements for a customer rather than on an isolated, case-by-case basis. By accessing a greater wealth of information about a customer, agents can respond most effectively to each individual case.
Lastly, I'm sure many will share my nerdy excitement about the arrival of the High Volume Bulk Delete API. Until now, constrained by existing API limits, it could be a long and laborious process to delete thousands (or millions!) of records at one time when cleaning up data.The new API facilitates purging large volumes of data at once, greatly speeding up bulk deletion and archiving where the need arises.
In Conclusion
Oracle Service Cloud February 2017 brings some very welcome new features which we're looking forward to getting stuck into. We think that Experience Routing and the Widget Inspector bring benefits to the largest number of Service Cloud customers, while other developments such as the addition of a new travel industry dictionary and enhanced OPA Hub user management will add great value for those with more specific business needs.
Which new features will you be implementing?
More information
Boxfusion Consulting's experienced, Oracle certified consultants carry a wealth of expertise in Oracle Service Cloud. Particularly recognised by our experience working with a range of Oracle CX Cloud products (including Service, Sales and Marketing Cloud), we have helped firms adapt effectively to the demands of today's customer.
Our deep knowledge of the Oracle Service Cloud architecture has helped many firms integrate the application successfully with existing systems, resulting in improved processes within the business that aid decision-making to contain costs, improve the online experience and gain a competitive advantage.
If you're interested in finding out more about Oracle Service Cloud or another CX Cloud application, or would like to know how we can help you on your firm's journey to a seamless online customer experience, call us on +44 203 283 4315 or contact us here.