Blog by Laura Harland
Laura joined Boxfusion in 2016 as Marketing Manager, and has five years of Marketing and Sales experience. She is responsible for the company's strategic marketing plan, including the coordination of brand positioning and lead generation activities.

Laura carries a deep understanding of customer relationship management (CRM), including its importance in centralising vital customer information, creating targeted marketing campaigns and identifying business growth opportunities.
Five Handy Developments in Oracle Sales Cloud Release 12
Posted by Laura Harland on Wed, Apr 26, 2017 @ 6:29 PM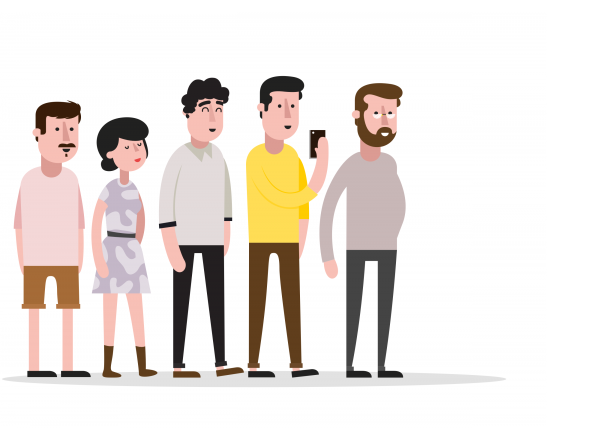 Release 12 of Oracle Sales Cloud is finally here, and Boxfusion were lucky enough to be one of only a handful of partners who gained access to the new release on our freshly upgraded instance! As first in line to test out the new functionality and improvements, I've been able to familiarise myself with some of its best features and I'd be delighted to share these with you.
Aside from smaller developments including improved views, tightened-up security, additional reporting templates and better functionality within Lightbox, there are some changes that have the potential to make an big impact on the way users view data and manage their sales activities. To name a few, it's now possible to perform a mass update to leads and opportunities. Furthermore, an improved lead-to-deal registration path has been introduced to allow the user to register a deal straight from a lead in just two clicks. Next up, Oracle have extended integration with email to accommodate Gmail.
Last, but certainly not least, Oracle have released Engagement Cloud, which introduces customer service capabilities (similar, but much smaller scale, to those of Oracle Service Cloud) alongside the core sales force automation features of Sales Cloud. What does this mean for Sales teams? They now have core Service Request details and functions available instantaneously within Sales Cloud, giving them immediate insights into the customer's overall relationship with the business. And for B2B organisations, where agents service customer issues first whilst remaining aware of cross-sell opportunities, this new solution will be a great fit.
The list of improvements goes on, but here are my top five. What are yours?
Oracle Engagement Cloud
Let's start with one of the most exciting features for us.
During OpenWorld 2016, when Oracle announced the introduction of Oracle Engagement Cloud, my colleagues tell me they vividly remember everyone's anticipation at the idea of enabling Sales teams to offer services whilst simultaneously giving support agents the opportunity to cross-sell. We even wrote a blog post shedding light on this key milestone, entitled 'Oracle Engagement Cloud – The Future of Service?'. To summarise, we wrote that the solution itself is relatively straightforward, with the functionality more geared towards supporting B2B firms (with core Service processes). This is in comparison to a complete omni-channel, full-featured enterprise customer service solution such as Oracle Service Cloud. Early adopters should therefore bear in mind its somewhat limited feature set.
Nevertheless, the synergies across Sales and Service are extremely powerful in bringing departments closer together and enabling the delivery of informed interactions with customers. So, have the developments measured up to expectations? We think so!
To start with, and most important to individuals looking to prioritise their workload at every given moment, you have the standard Oracle Service Cloud option to mark Service Requests as 'critical'. This can appear on a new Infolet Dashboard which can easily be accessed directly through the Sales Cloud homepage (Fig. 1).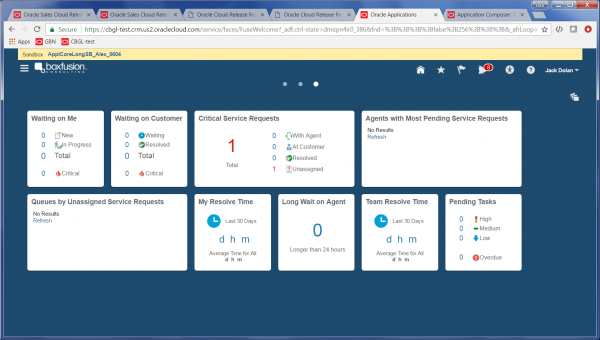 Fig. 1: New Oracle Sales Cloud Infolet Dashboard indicating critical Service Requests
Secondly, whilst the Engagement Cloud provides handy out-of-the-box Service Request Infolets like 'Critical Service Requests' and 'Team Resolve Time', you can also create custom reports for Service Requests using the Reports and Analytics area of Sales Cloud. For example, perhaps you want to indicate the average time it takes for an agent to resolve critical Service Requests specifically.
Thirdly, this Service Request functionality is also available to partners (where an organisation works with other companies who sell their products/services on their behalf), giving them the option to request technical/Sales support. See below for more exciting enhancements for Partners in this release.
These are only a select few features of Engagement Cloud, and we'll produce a blog post that looks into Engagement Cloud in-action later on in the year, so watch this spac
New Mass Update Functionality
Ask any Salesperson, and they will tell you that 'Mass Update' is one of the handiest tools in any customer relationship management (CRM) application. Being able to select multiple records at once to amend a particular field is a massive time-saver, and one that should be utilised often to minimise admin. time and maximise time spent generating pipeline.
Mass update is new to Release 12. Prior to this, the only way to update multiple records at once was via the more time-consuming file import method. Now, you can mass update up to four attributes at once on multiple leads with a single operation (Fig. 2). For example, John Smith, Sales Manager at ABC Ltd. just met three decision makers in a sales pitch and wants to update their payment currency and the source details of those leads. See below to get a better idea of the view he'd see.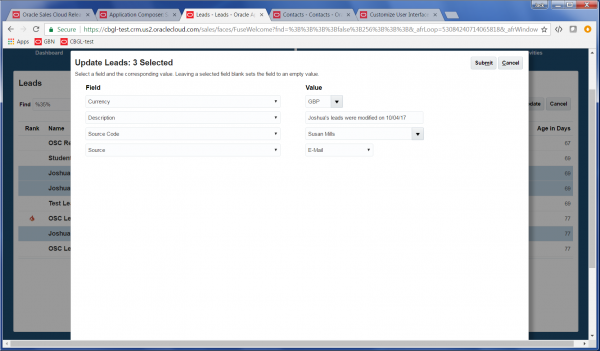 Fig. 2: View of mass upload specifications once multiple records have been selected
This expansion of the mass update function hasn't just been applied to leads; the same option is now available for Opportunity objects too. For example, John Smith may want to update two opportunities that he progressed as a result of his positive sales pitch. All he has to do is select the two opportunities, choose the fields  and update, all in one fell swoop.
Enhanced Analytics
Everyone knows that analytics play a vital part in business development, enabling firms to not only understand customer behaviour, but to gain better insight into performance of staff.. This is great for proactive management staff constantly evaluating their marketing and sales strategies.
For Sales teams, analytics are a game-changer. When it comes to tracking and measuring, they provide a platform to identify the best opportunities to build pipeline. In Oracle Sales Cloud, for example, Sales Infolet dashboards provide a vital platform for indicating statistics, just like the example of the 'Critical Service Requests' within Engagement Cloud mentioned earlier.
The latest release has introduced a few developments to Infolet dashboards that are worth sharing. First of all, extra Sales Infolet dashboards can now be added to the Sales Cloud home page, appearing as additional pagination dots that you can navigate between.
Even better, it's possible to configure these dashboards and individual Infolets to meet more granular requirements associated with a specific job role. For example, John Smith may need to see a Sales Infolet dashboard which outlines Sales in the UK for previous year. However, Marketing Executive Jane Doe, won't find this information interesting or useful, and will  have her own Marketing dashboard.
Improved Partner Relationship Management (PRM)
PRM is a very useful extension of Sales Cloud, developed to enable channel account managers and partners to share leads, register deals, create quotes and collaborate. Whilst PRM has always been a feature-set of Sales Cloud, the latest development has introduced a number of new prebuilt reports. The benefits of these reports? You'll be able to gain insight into ROI, forecasted and actual metrics and review partner program performance. The benefits of these reports to both internal Sales teams and partners are far-reaching.
In Release 12, it is now possible to report on particular partner related topics such as Marketing Development Funds (MDF) Requests (Fig. 3).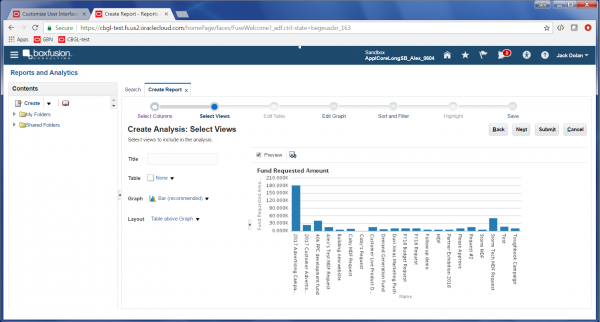 Fig. 3: Report indicating MDF Requests
It doesn't end here. Whilst the new standard reporting capability within PRM offers out-of-the-box reports, users have the additional option to build custom reports.
On the topic of time-saving, another development has been introduced to cut down admin. time for PRM users. Lead objects now have a Deal Registrations subtab, allowing conversion directly from the Leads page (Fig. 4)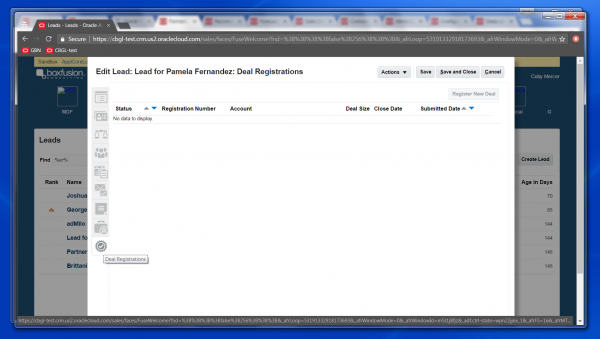 Fig. 4: The new Deal Registrations subtab within the lead record
This useful addition to the lead object means you skip the lead to opportunity part and jump straight into registering a deal. All you have to do is click on the Deal Registration subtab and click 'Register New Deal', and a deal will automatically be registered with key information taken straight from the lead (e.g. deal size and account information). Before, you'd have to exit the view, go into separate part of Sales Cloud,  open Deal Registration and manually type in the details regarding the sale. This is ideal for firms whose channel members often find themselves having a successful conversation with a lead through a cold call, resulting in an immediate agreement to purchase a service or product.
Integration with Gmail
One of the most exciting developments we have been itching to see is the Sales Cloud integration with Gmail. Integration with email applications are essential when it comes to ensuring Sales team activity is tracked. This has a domino effect on sales productivity: the easier it is to access information, the speedier the user adoption and the quicker the sales cycle.
We expect this will be available around May, and to give you some background information, it will enable Sales representatives and Sales Managers to:
Select which contacts and appointments they want to maintain within Google Gmail.
Associate Google calendar appointments with corresponding Oracle Sales Cloud accounts, opportunities, or leads.
View Oracle Sales Cloud contact details for Google Contacts directly within Gmail.
There are a number of other features of this integration that we could explore in detail, all of which will be listed in a downloadable document in the Chrome extension from the Chrome Web Store once it's released.
Conclusion
Whether large or small, these nifty developments will make a great difference to the way an employee carries out their day-to-day tasks. Something as small as a customised report or as instrumental as Service Request management inside Sales Cloud can give teams the tools they need straight away, to save time, manage and gather information and deliver results quicker than ever
More information
Boxfusion Consulting's experienced, Oracle certified consultants carry a wealth of expertise in Oracle Sales Cloud. Particularly recognised by our experience working with a range of Oracle CX Cloud products (including Service, Sales and Marketing Cloud), we have helped firms adapt effectively to the demands of today's customer.
Our deep knowledge of the Oracle Sales Cloud architecture has helped many firms integrate the application successfully with existing systems, resulting in improved processes within the business that aid decision-making to contain costs, improve the online experience and gain a competitive advantage.
If you're interested in finding out more about Oracle Sales Cloud or another CX Cloud application, or would like to know how we can help you on your firm's journey to a seamless online customer experience, call us on +44 203 283 4315 or contact us here.