De Vere: Modern, real-time marketing using data-rich guest profiling

"We were looking to vastly improve our data-driven marketing by tightening up guest profiling within our marketing technology solution. With Oracle's CX Cloud, we can easily and effectively target customers with relevant, highly personalised marketing communications, enhancing the customer experience and delivering significant ROI. In addition, our partnership with Boxfusion means that we have the support we need to extract real, long term value from our investment in Oracle."

Wayne McDonald - Head of CRM, De Vere

Background
De Vere offer a collection of award-winning hotels across Britain. Their unique brand combines heritage and iconic buildings with close relationships within the communities in which they are located.
The luxury hotel group had the primary goal of placing valuable guest data at the forefront of their sales and marketing technology solution, combining powerful guest profiling with data-fuelled marketing methodologies to deliver a leading hotel guest experience.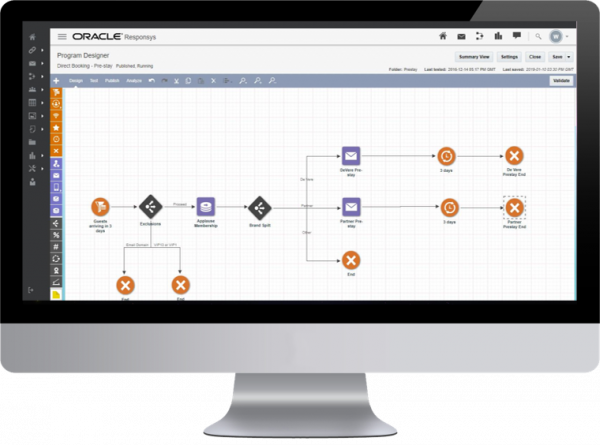 The quest to put the customer at the heart of the business
De Vere wanted to hone in on the business value of guest profiling and real-time data and how it can be leveraged using Oracle's latest integrated marketing and sales technology.
A more reactive, real-time marketing approach was vital to achieving their business objectives. Their aim was to increase direct bookings by re-targeting existing customers with unique loyalty programmes. They also wanted to increase lifetime value of customers through personalised up-sell and cross-selling.

A solution that harnesses powerful guest profiling
De Vere's expertly crafted Oracle solution takes valuable customer data from their property management system (Opera) and feed it into the Oracle CX Cloud platform.
By consolidating sales and marketing data such as meeting information, booking data and guest profiles, and placing it front and centre of their technology architecture, De Vere are now able to easily and effectively identify, maintain and extract data essential in reactive marketing-planning.
A centralised guest profiling dashboard for the modern marketer
By enhancing their guest profiling capability, De Vere have a seamlessly integrated Sales and Marketing solution with the power to drive targeted, data-driven marketing campaigns.
This approach provides them with:

A platform that feeds valuable customer data in real-time to the marketing department
A CRM solution that puts the customer at the heart of the business and its systems
A complete, accurate view of all customer interactions that drives better conversions and repeat business
Better capturing of data to drive wider data segmentation
A solution that takes customer data and translates this into increased marketing ROI